Guided Black Bear Hunts in Alberta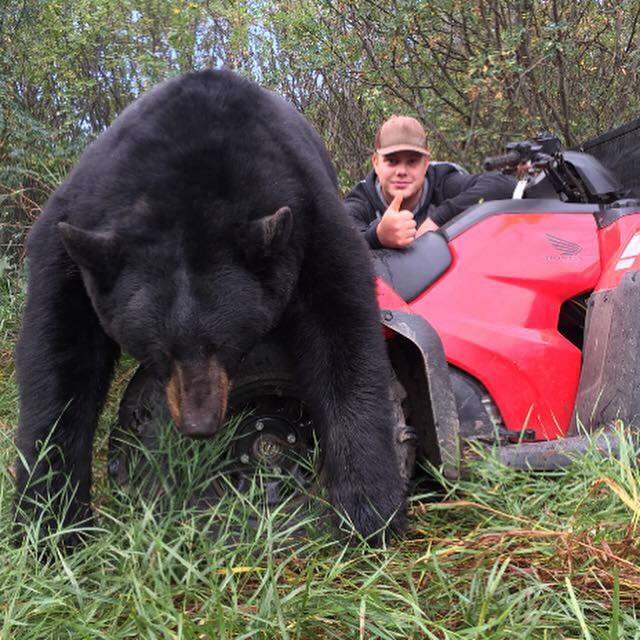 Fall Bear Hunting in Alberta, Canada
In our biased opinion, the fall season is the best time to hunt black bear. After months of eating berries, clover and oats these bears can have upwards of 6-8 inches of fat on their backs. This prepares them for the long winter ahead. After an extended period of time out of their dens, contrary to the spring season, their fur has had ample time to grow thick and lush essentially eliminating the possibility of thin hair or rubbed out spots.
The territory we hunt these trophy black bears is a NO BAITING ZONE. This contributes greatly to the healthy population of bears we have in this area as a result of no one hunting them in the spring season.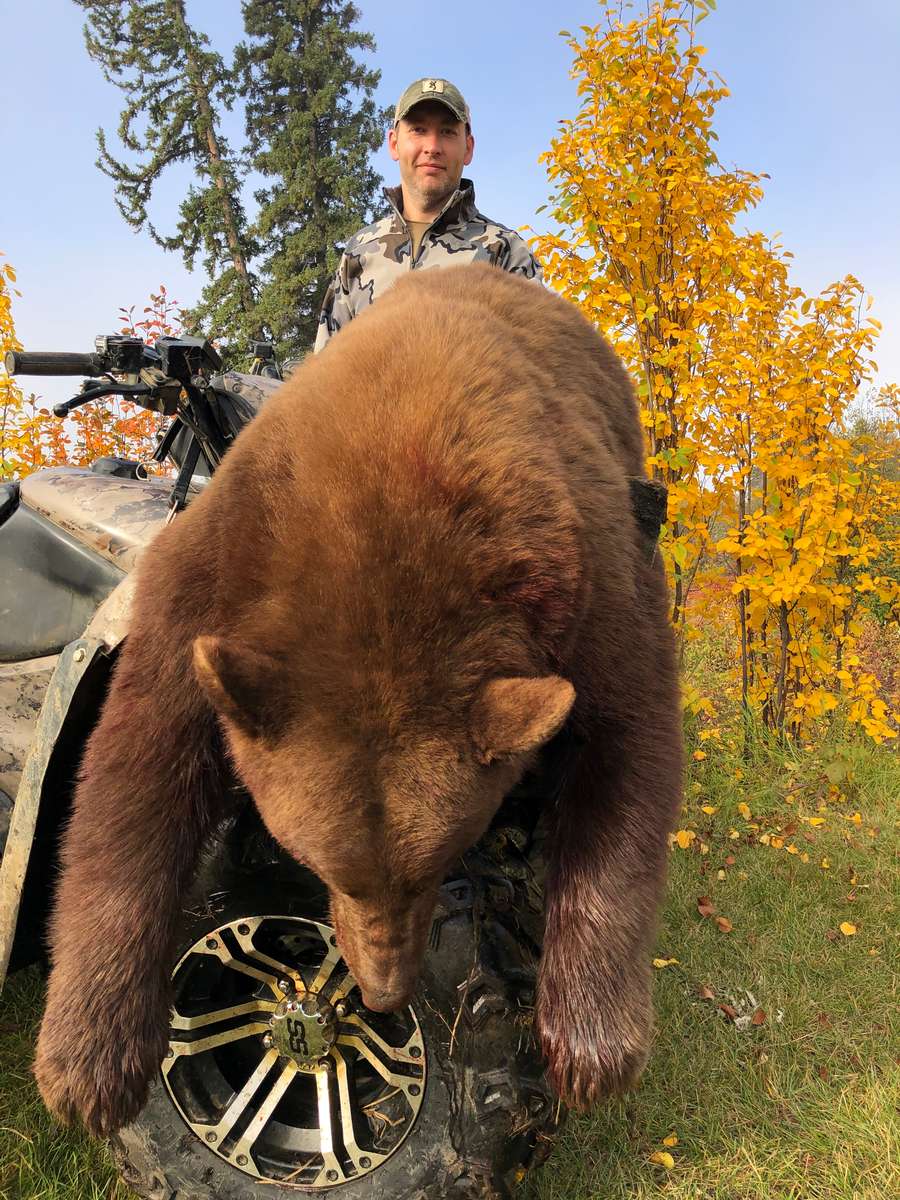 The Fall Bear Hunt
A typical day in bear camp is waking up about one hour before day break, filling our coffee mugs and heading out to our favourite honey holes, sometimes being only a few minutes from camp. Waiting for daylight and legal shooting time we'll scout the field edges trying to find a bear of interest and proceed to make a plan of attack, keeping wind direction and all variables in our favour. With the crops being so high this time of year we may even just start walking quietly along the tree line until we spot ears poking up above the oats.
Once back at camp, breakfast will be served and then we'll proceed to take photos of successful hunters with their bears from the morning or the previous evening's hunt. Followed by skinning and hide/skull preparation for your taxidermists. We clean skin, cape, and salt all hides as well as remove meat and brains from the skull for transporting purposes.
After a few hours of relaxation and a hearty meal, you will head out with your guide for the evening hunt. This is when you are most likely to be successful and see a larger number of bears. You will also have the option of hunting from one of our tripod stands.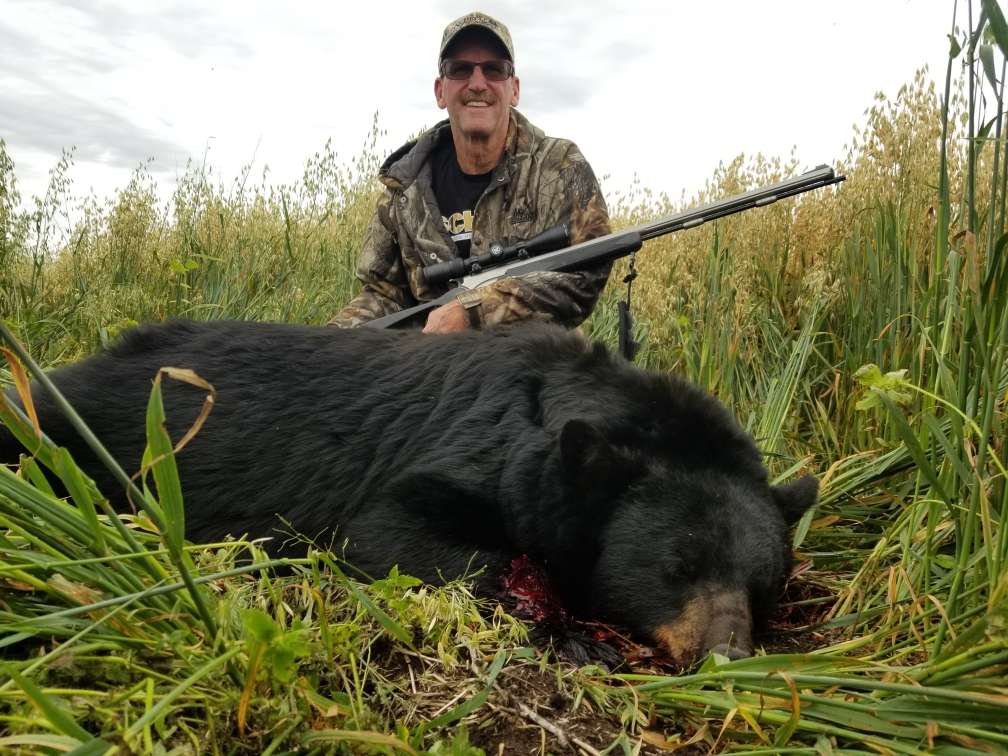 Where We Hunt in Alberta
Our Bear hunting territory is located in one of the most Northern agricultural areas of Alberta, Canada. The black bears in the Area are known to be the largest bruins in Canada due to plenty of agriculture surrounded by miles & miles of remote bush.
Specifically, the area we hunt is only about 10 square miles, surrounded by hundreds of thousands of acres of boreal forest. The bears are mostly concentrated in the small pockets of oat fields spread out across this land. With such a large number of bears and few preferred crops, you can witness upwards of 15-20 bears in one field at any given time making this the most exhilarating bear hunt you will ever experience. Gracious farmers allow us to hunt their fields year after year allowing us to help minimize exponential crop damage that these bears cause.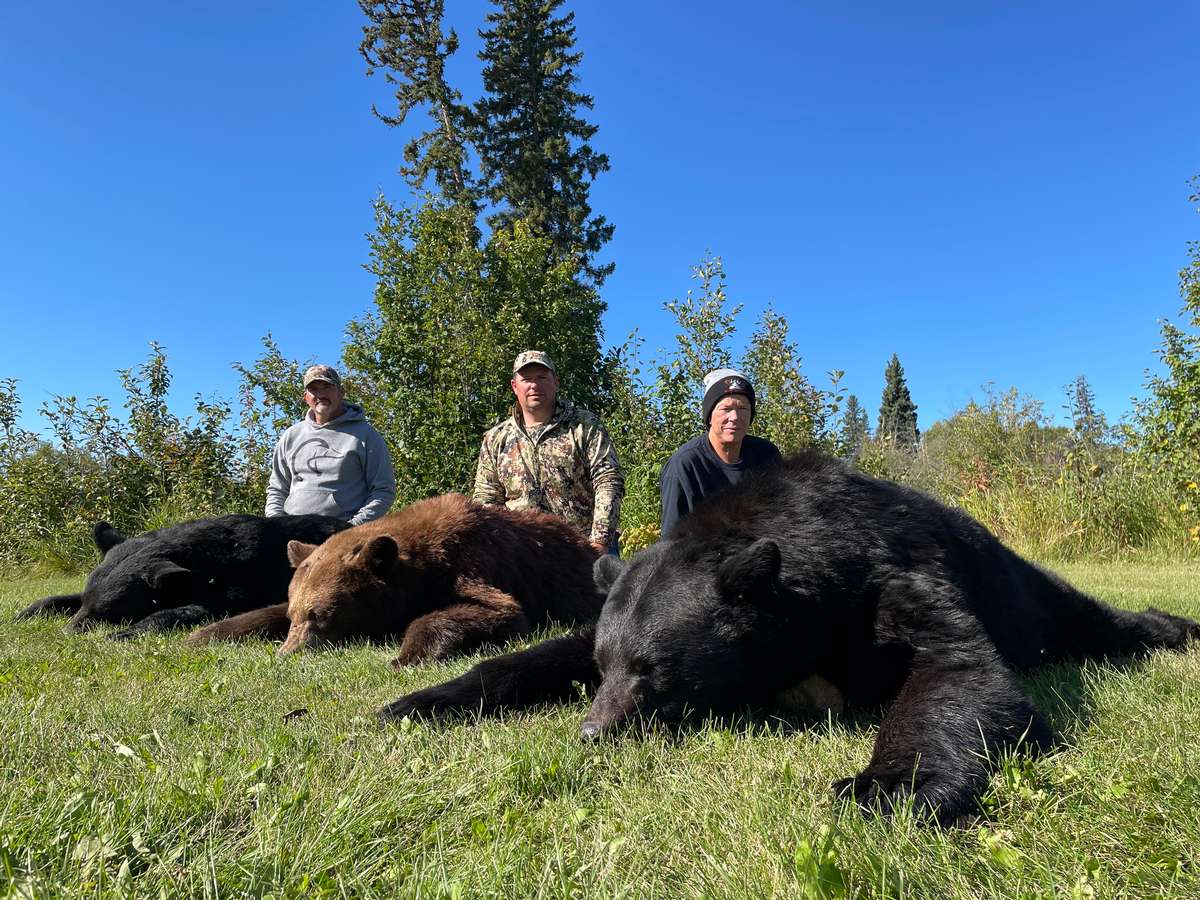 Spot & Stalk Bear Hunts in Alberta
Whether you plan to hunt with a rifle or a bow, spot and stalk bear hunts in Alberta are an adrenaline filled hunter favorite. These hunts are exciting and bring a different challenge than other bear hunts, but success rates are high.
Good scouting is critical for a quality spot & stalk black bear hunts and we do a lot of scouting before every hunt. Our guides target the most active areas in the fields & bush we hunt. It's obvious where the bears are coming out because the oats will be flattened for 20-50 yards parallel to the bush line. We walk the edges of the fields or still hunt in the most active spots.
Archery spot and stalk hunts are a unique challenge and our guides are very experienced in the nuances of bow hunting for bears. We also have tripod stands for hunters that want to sit for some hunts.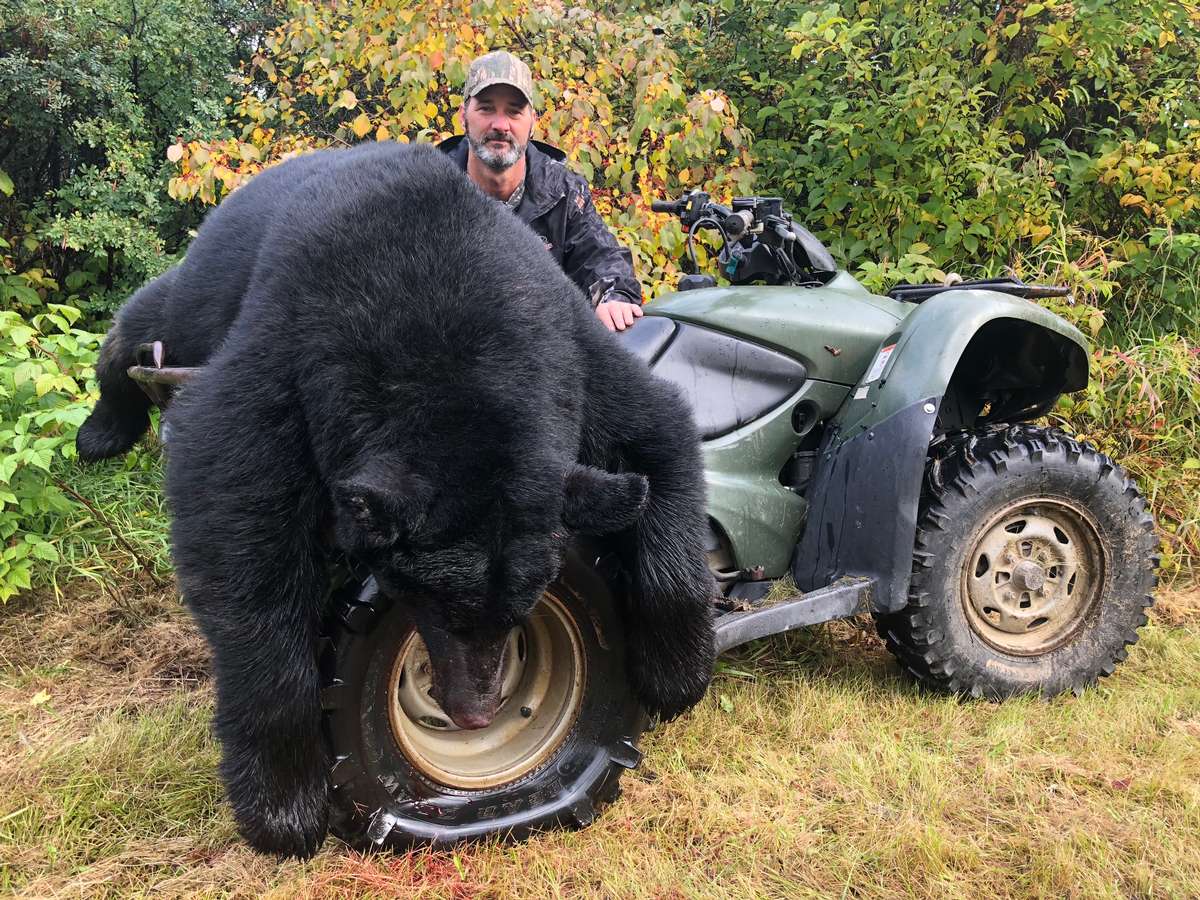 What To Expect
Hunters planning on flying, your destination will be the Grande Prairie, Alberta airport. From there, you will have to rent a vehicle and drive approximately three and a half hours North. Upon arrival at the airport directions directly to our camp will be provided. Once you have arrived in camp you can expect to be welcomed by the team and settled into your own private room.
Travel Requirements: https://apos.ab.ca/Hunt/TravelRequirements
Archery or Rifle Bear Hunts
**This hunt can be done with archery or rifle. There is a TWO bear limit with unbelievable success rates year after year!**
Alberta offers the option to hunt with a rifle or bow for fall bear hunts. For hunters looking for a quality archery black bear hunt, our guides are experienced in guiding bow hunters and will get you a great opportunity at a trophy bear.